The death of 20 year old musician Jaseh Onfroy a.k.a XXXTENTACION created a storm of controversy as the public drew a line in the sand. The stage was set and the ultimatum was this: you either support the condemnation of domestic violence by rejecting his art or you sympathise with a monster and disgrace the victims if you don't. This kind of black and white moral compartmentalising is a brilliant analogy for the current state of global politics. It's tribal assimilation without any consideration of winder context. Life and more importantly people are never as simple as two options.
XXXTENTACION embodied the dichotomy of the human temperament, he appealed to both sides of the individual – rough yet smooth, loud yet quiet, different but the same. The reason why X had such a devoted legion of fans and the reason he had such a fierce opposition is because he represented the duality of the psyche. He evoked a response whether you wanted to pay attention or not and his image and life was loaded with symbolism which perfectly relates to Jungian symbolism – here's how:
According to Carl Jung's theory, men and women can be loosely broken down into two categories: Anima (female) and Animus (male). In each of these categories are stages of development which relate to the understanding of self.
XXXTENTACION: first incarnation (2015-2016)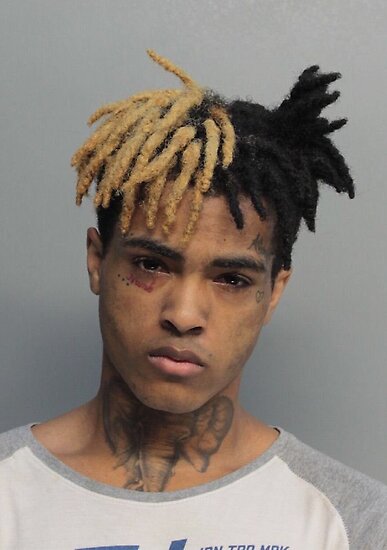 The first Jungian archetype within the theory of the Animus is 'Man Of Physical Power' this is also associated with the Freudian 'id' which is the primal, reactionary part of the psyche. It's the part of the mind that operates on pure impulse – manifesting in heightened sexual drive, arbitrary violence and a utilisation of physicality to assert your presence. All of this is encapsulates X within this period, he was briefly put in jail and his mugshot accompanied his breakout single 'Look at Me!'. His mugshot went viral and at this stage the symbolism of his contradictions was already laid down in this image: he has his hair in two separate colours subtly and unconsciously representing a conflict within the self. During this stage his presence was defined by physicality and violence; reports of his domestic abuse surfaced, he instigated chaotic riots at his shows, he assaulted fans and the violence culminated in him being knocked out on stage. The footage of this incident is an insight into the unrelenting nightmare of the unbalanced collective consciousness. His own instability infected the entire room and erupted into a version of hell on Earth.
XXXTENTACION – second incarnation (2017)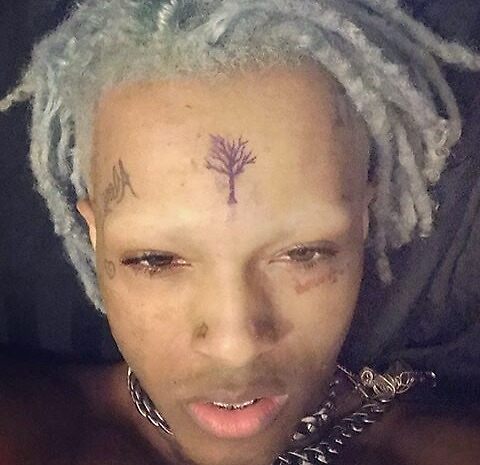 X's second incarnation was in response to the mounting controversy and psychological pressures he faced. During this period his fame reached unparalleled heights in tandem with his infamy. His ex-girlfriend took her case to court and a damning article was published which created a wave of opposition, disgust and fury. Following him being knocked out on stage his already unstable psyche was thrown completely out of balance and this was manifest in his redesigned perception of self. Paranoia and distrust began to mount, his friendships broke down, the chaos grew. He began to hate the 'pretty thug' image of himself that his mugshot had created and opted to symbolically destroy that version of himself. This relates to the second stage of Jung's Animus 'Man Of Action'. Somebody who takes their life and attempts to radically alter it in the face of imminent threat. He created a sterilised, blank version of himself – symbolically bleaching his persona, ridding himself of the previous character.
XXXTENTACION – third incarnation (2018)
The final version of X combined the final two stages of Animus which are 'Man as an Orator' and 'Man as a Spiritual Guide'. Towards the end of his life the unsustainability as the Loki character became apparent, with the global fan base he had amassed he was faced with many personal questions about who he wants to be and how he wants to use his power. He commented actively that he had played the role of 'villain' in an effort to garner respect but it was the wrong type of respect and it only invited pain. It was during this stage on the other side of the chaos that he began to rationally evaluate his position and his influence and how he could utilise that for the betterment of the self and the betterment of others. He began preaching constantly via Instagram Live to an average of 25,000 people at any given time. He was spreading a message of redemption and positivism. It's important to note that this doesn't exonerate him for his previous crimes but we're only studying this as a symbolic process. The visual associations with his hair being blue are themes of  sadness, introspection, purity and calm.
The story and symbolism of X beyond his music encompass a large amount of associations that cannot be simplified. Just as the complexity and contradictions that are present in the human psyche cannot be simplified. Potently, X's last music video to the song 'SAD!' features him literally fighting a previous version of himself. The chaos that wanted to come back out, the anger inside the id, the reactionary pain and violence. Jung often spoke of the duality within humanity. How people are not simply one thing or another but a multitude of influences  and contradictions that coalesce and overlap. This is represented in the character of XXXTENTACION, there is clear stages to his development and the indications towards the end of his life were that he was reaching the psychological stage of self actualisation. He began to understand how to relate to people and how to interact, his work with charity and his attempt to right his wrongs in the past serve as a lesson in how a person is not defined by their past but rather their future. If our society begins to relinquish the idea of redemption we will regress into a fascistic conservatism which leads to all people being defined by their mistakes. This pathway is a dangerous one because it doesn't allow people the opportunity to change. Change is essential in the development and redemption of humanity as an entity destined to fall on it's path to a better future.